March 23, 2023
Networking with the Innovators of Tomorrow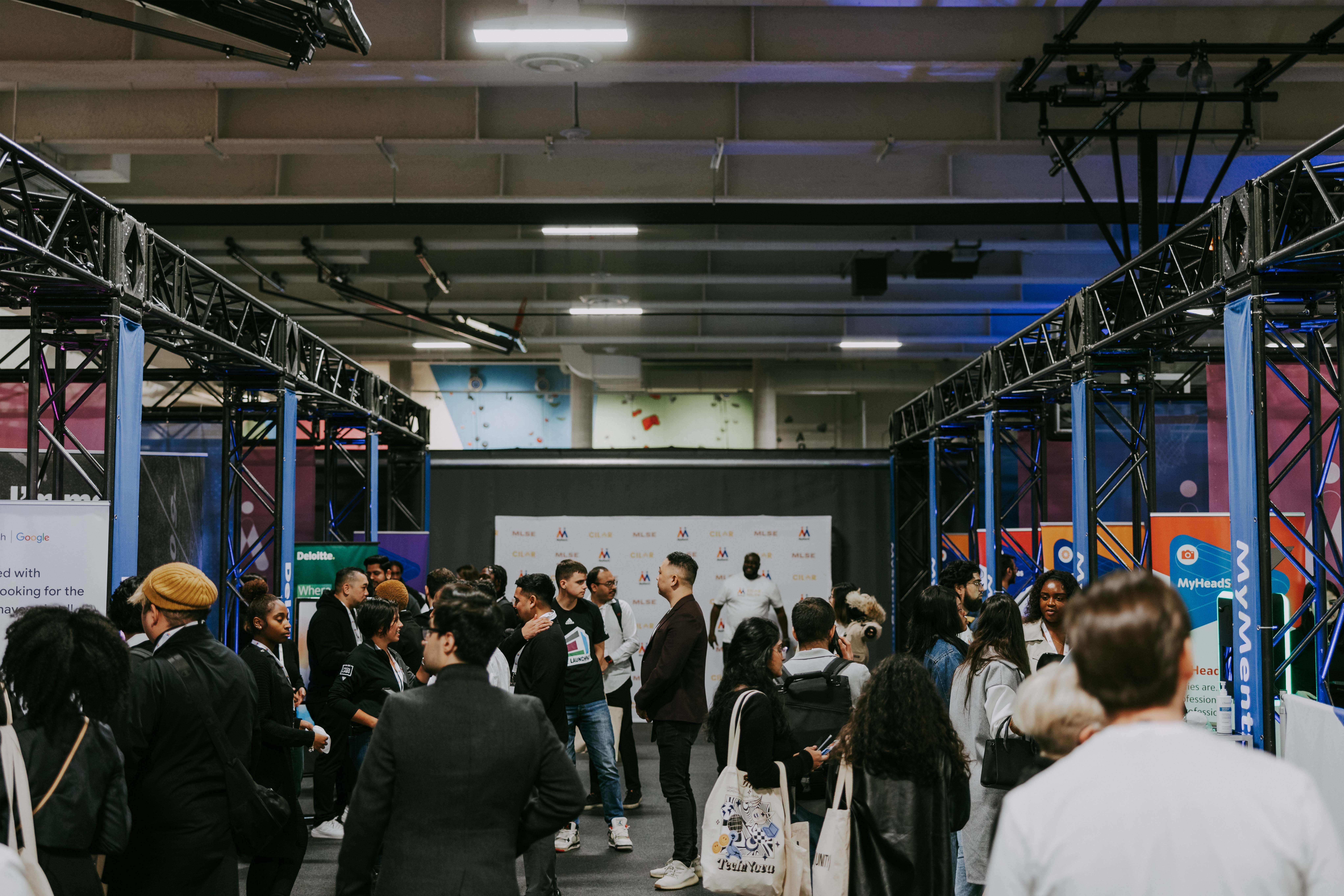 Empower To Employ: Activate!
Navigating your way around the tech and innovative sector in Canada can be difficult. Those just starting their careers may experience barriers around accessing the right tools, education and mentors. The ability to make professional connections, find new job opportunities, and learn what employers are looking for can make all the difference.
MyStartr is dedicated to creating opportunities for young people, and on March 3, 2023 we partnered with CILAR and MLSE to host our biggest networking event of the year, Empower To Employ: Activate! This event brought us together to remove barriers to employment in the innovation economy. With major supporters and partners such as Deliotte, AWS, Appen, DMZ, OpsGuru, City of Toronto, IBM, MaRS, Nestle, HomeDepot, RX Foods, Telus, Ops Gurus, Radeon Tech, Siemens, HP, CDW, and Protexxa, we were able to share valuable insights, relatable experiences, and career advice with all 350 event attendees.

This event was our first major step to increase access to the innovation economy by removing barriers for employers and candidates! As of 2019, more than half of all businesses reported facing obstacles when it comes to innovating their work (1). By creating connections and pathways for the leaders of tomorrow, we can help change the future for the better – for everyone.
Moderated Panels
With enlightening moderated panels such as Employer Panel: Corporate Innovation Starts With Young Talent and Athletic Panel: Inspiring Change And Innovation In Sports we created the perfect opportunity to tackle the top questions graduates and students were eager to address. The panelists covered a range of important topics from how best to combine business strategy and technology to using revolutionary innovations to solve demanding challenges.
Mentorship Area
AWS, Deloitte and other top employers from the innovation and technology sectors hosted their own mentorship booths to connect directly with attendees. These mentors shared their valuable perspectives with over 47 mentorship participants on how they can prepare themselves for a role in the sector and what employers are looking for, encouraging them to pursue their own path to success.
Innovation Booth
Participants at the innovation booth gained access to our interactive app on their device, which helped them discover and navigate through roles and skills in a variety of fields in the innovation economy. This digital roadmap also informed them which employers at the event best aligned with their interests, and how to approach them.
Professional Headshot Booth
Our onsite photographers hosted a photo studio to provide all attendees with professional headshots for their portfolios, online profiles, and avatars.
Grow With Google Certification
Attendees were given access to the Grow with Google online training program (valued at over $300) that offers professional certificates in fast-growing, high-demand technology fields! Designed by Google and taught by experts, these programs combine skills training with hands-on practice in areas such as IT, user experience design, project management, digital marketing and e-commerce. In addition, job seekers receive support and practical tips for resumes, interviews, and job searches, helping them to land jobs in the technology sector.
MyStartr Activation Zone
The Activation Zone is dedicated to helping attendees identify their professional skills and discover their unique strengths and values through a series of interactive experiences that point them towards the employers who share their values.
MyStartr coaches were also available at the MyPitch booth to help attendees perfect their professional pitch, communicate effectively, leave a lasting impression, and make a personal connection while networking.
Laptop and Prizes Giveaway
The first 45 people to attend Empower To Employ: Activate! were provided with a free laptop! Generously donated by Siemens, this fantastic opportunity helped to close the digital divide around access to technology by providing equitable opportunities to computer technology.
Any attendees who participated in the activities and visited employer booths via our digital interactive app were also eligible to win a fantastic prize, such as: Starbucks gift cards, shirts, jerseys, a Nestle gift basket and even a Dalano Banton signed basketball.
"The soft-skills booth workshops were a game changer for me. I picked up some great tips on how to improve my elevator pitch and I feel much more confident in my ability to communicate my strengths and skills with potential employers. I also got a professional headshot, which was an unexpected bonus!
The atmosphere was welcoming and inclusive, and I felt like everyone present there had similar goals to mine! We were able to support each other and help each other succeed."
- Attendee Of Empower To Employ, March 3rd 2023
Innovation starts with the creativity and imagination of passionate Canadians. By removing the barriers to information, education, and resources, and by creating support networks that foster innovation and inclusivity, we're investing in our future by generating better employment opportunities for individuals, employers, communities and the Canadian economy.
A massive thank you to our sponsors, partners, staff, and especially to all those who came to the Empower To Employ: Activate! event. Stay connected, stay informed, & stay innovative!
1. https://www150.statcan.gc.ca/n1/daily-quotidien/210426/dq210426a-eng.htm